Welcome to the Doberman Pinscher Club of Dallas
DPCD May Membership Meeting
GUEST ARE CORDIALLY INVITED TO JOIN US FOR OUR MAY MEETING !!
BEVERAGES AND DESSERTS PROVIDED !!!!!

Next DPCD Membership Meeting Date: Friday, May 20, 2016
Where: Martha Ward's Home (Plano, TX)
For directions or more information:
RSVP Julie Lessick - GSDDobeTX@verizon.net
Or call Martha 972-867-0507
Program: WAE BRIEFING/OVERVIEW PRESENTED BY WAE EVALUATOR ERIC PETERSON
DPCD Hosting WAE!
Saturday May 21st 9:00am
North Lakes Park, Denton. Texas
Any AKC registered (including ILP) Doberman Pinschers of an allowable color, 18 months and older, is eligible for testing. Your Doberman must have an AKC or ILP number to register for the test.
Please Click on button left side Website for directions, entry forms and more details. (guest welcome to observe)

What is the WAE? Breed Specific Title
The DPCA (Doberman Pinscher Club Of America) has devised a temperament test (WAE - Working Aptitude Evaluation) The aim is to recognize those Doberman Pinschers which display the temperament traits desirable in the breed in accordance to the DPCAs breed standard, thus demonstrating the character of a stable companion and resolute protector. Upon passing this test the Doberman is awarded a WAC (Working Aptitude Certificate) title. The tests include 5 exercises that evaluates the dogs responses to: People - The Neutral and Friendly Strangers, Auditory - The Hidden Clattering and The Gunshots, Sudden Visual - The Umbrella, tactile sensitivity - Footing + Walking Across Variable Surfaces, Threat - The Protective Reaction to an aggressive stranger.
The Doberman Pinscher Club of Dallas was founded to promote the Doberman Pinscher breed. Membership is open to anyone, whether they own a Doberman or not. It is not necessary to be active in showing a dog in conformation, obedience, agility, tracking, herding, fielding, or any other venue. The only requirement is an interest in Dobermans! Our meetings are open to anyone so feel free to drop in and participate!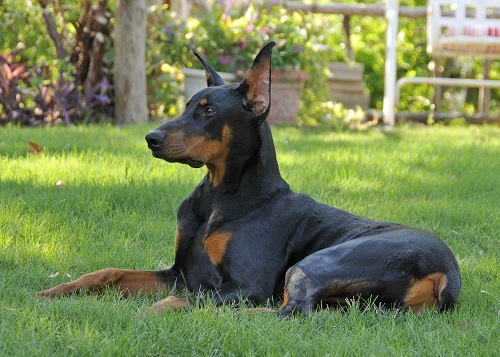 Our club promotes activities that are informative on our dog's health, breeding, raising of puppies, and training. So, if you're interested in meeting other people who share the same love for the breed you do, join us! As mentioned, our club has members who participate in a wide variety of activities in the dog world and is a great place to get exposed to it all!
We operate under the rules of the Doberman Pinscher Club of America and the American Kennel Club. The Club is not operated for profit. For more information on the Doberman Breed and Standard please visit the Doberman Pinscher Club of America website.